Mobile-First Design: A Must-Have Approach for Responsive Web Design Agencies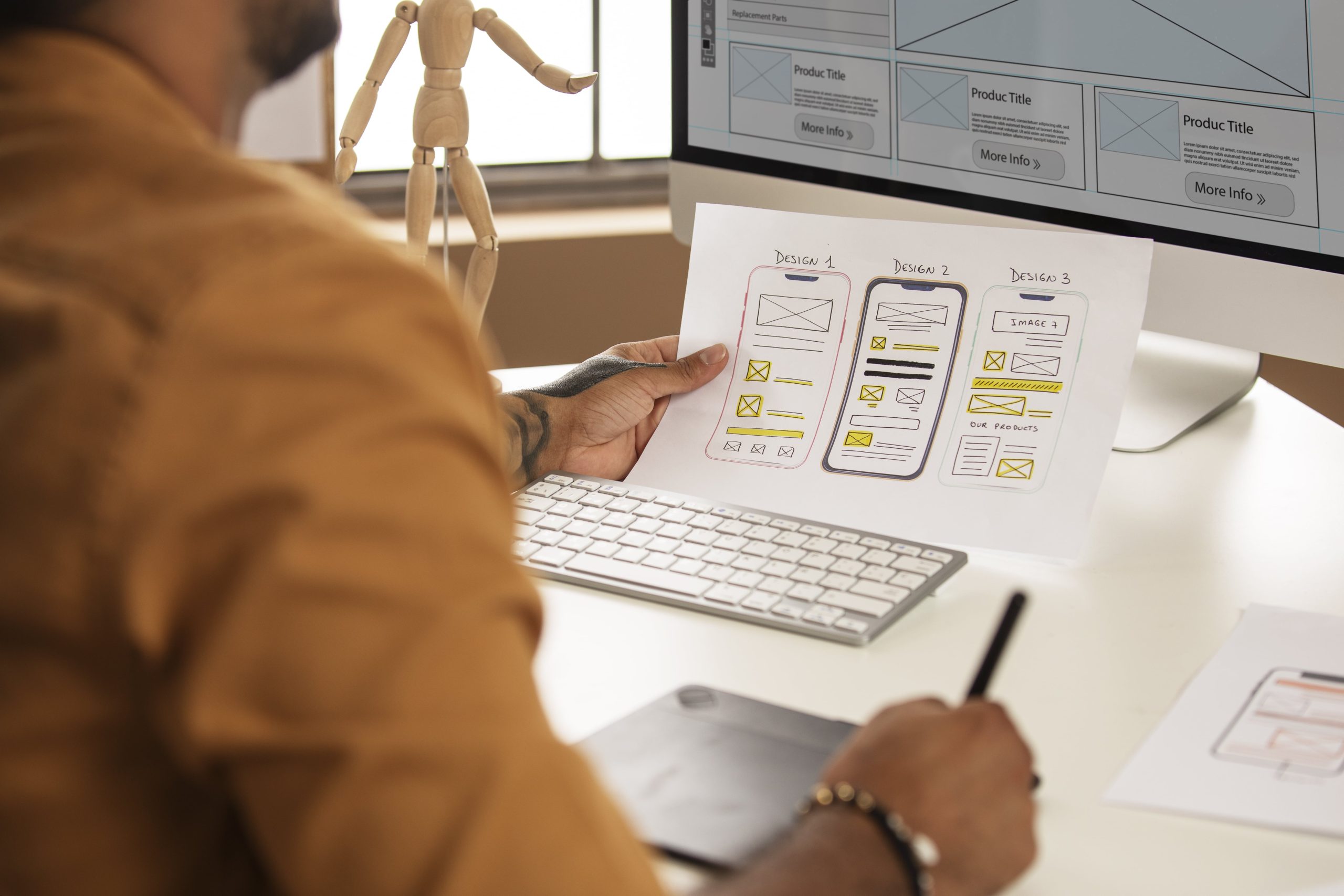 Hey there, future web designers and tech enthusiasts! Have you ever wondered why some websites look awesome on your smartphones while others are a pain to use? Well, it's all about something called "mobile-first design." In this article, we're going to explore what mobile-first design is, why it's super important, and why responsive web design agencies should embrace it. Get ready to discover the secrets of creating websites that rock on mobile devices!
What is Mobile-First Design?
Mobile-first design is a cool approach to building websites that starts with the idea that smartphones and other mobile devices are the most critical platforms to consider. Instead of designing for desktop computers first, web designers begin by creating a website that looks fantastic and works perfectly on smaller screens like phones and tablets. Then, they make sure it works well on larger screens like laptops and desktops. It's like building a house starting with the most essential rooms and adding extra rooms later!
Why is Mobile-First Design Important?
Now that you know what mobile-first design is, let's dig into why it's a big deal:
1. The Mobile Revolution: Nowadays, most people use smartphones to browse the internet. So, if your website isn't mobile-friendly, you're missing out on a massive audience. Mobile-first design ensures that everyone has a great experience, no matter what device they're using.
2. Google's Love for Mobile: Google, the giant search engine, loves mobile-friendly websites. When your site is mobile-first, Google is more likely to rank it higher in search results. That means more people can find your site when they're looking for something.
3. Faster Loading: Mobile-first design often leads to faster-loading web pages. Imagine waiting forever for a website to load on your phone—annoying, right? With mobile-first design, your site loads quickly and keeps visitors happy.
4. Better User Experience: People don't like pinching and zooming or struggling with tiny buttons on their phones. Mobile-first design ensures that your website is easy to use, making visitors stick around longer.
How Responsive Web Design Agencies Benefit from Mobile-First Design
Okay, so now you know why mobile-first design is essential. But why should responsive web design agencies care about it? Let's find out!
1. Staying Competitive: In the world of web design, staying competitive is a must. Agencies that embrace mobile-first design stay ahead of the game because they can create websites that meet the demands of modern users.
2. Client Satisfaction: Clients want their websites to look fantastic on mobile devices because that's where most people browse the internet. Agencies that prioritize mobile-first design can make their clients super happy by delivering mobile-friendly websites.
3. Better Google Rankings: Remember how Google loves mobile-friendly sites? Agencies that use mobile-first design boost their clients' chances of ranking higher in Google's search results. This makes clients happy, and happy clients mean more business!
4. Future-Proofing: Technology keeps changing, and mobile devices are here to stay. By adopting mobile-first design, agencies future-proof their services and ensure they can adapt to the evolving web landscape.
How to Implement Mobile-First Design
Now, you might be wondering, "How can web designers actually implement mobile-first design?" Well, here are some essential steps:
1. Start with a Small Screen: Designers begin by creating the mobile version of the website. They think about how the site will look on a tiny phone screen and prioritize the most critical elements.
2. Content is King: Content is crucial on any website. Designers make sure the content is easily readable on mobile screens. They might use larger fonts and clear headings.
3. Navigation Matters: Navigation menus should be easy to use on mobile devices. Designers often opt for a "hamburger menu," a three-line icon that expands into a menu when tapped.
4. Touch-Friendly Buttons: Buttons and links should be large enough for fingertips to tap without accidentally clicking the wrong thing. Designers ensure that interactive elements are user-friendly.
5. Gradually Add Complexity: As the website design progresses, designers add more features and complexity for larger screens. They might introduce multi-column layouts and additional content.
Challenges of Mobile-First Design
While mobile-first design has many benefits, it also comes with some challenges that designers and agencies need to overcome:
1. Limited Screen Space: Small screens mean less space for content and design elements. Designers need to be creative in making everything fit without overcrowding the screen.
2. Consistency Across Devices: Ensuring that the website looks and functions consistently on all devices can be challenging. Testing and refining are crucial to achieve this.
3. Prioritizing Content: Deciding what content to display on mobile screens first can be tricky. Designers must identify the most critical information for mobile users.
4. Testing and Optimization: Mobile-first design requires thorough testing on various devices to catch any issues. This can add time and complexity to the design process.
Conclusion
Mobile-first design is a game-changer in the world of web design. It's all about starting with mobile devices in mind and creating websites that shine on smaller screens. Responsive web design agencies that embrace this approach gain a competitive edge, satisfy clients, and improve their Google rankings. So, whether you're a budding web designer or just curious about the world of web development, remember that mobile-first design is the way to go to create websites that truly rock in the digital age. Happy designing!
---
What's the difference between mobile-first design and responsive design?
Mobile-first design is an approach where web designers prioritize creating a website for mobile devices first and then adapt it for larger screens. Responsive design, on the other hand, is a broader concept that ensures a website adjusts and looks great on various screen sizes, starting from mobile and scaling up to desktop. Mobile-first design is a crucial part of responsive design, but responsive design encompasses making a website work well on all devices.
Do all websites need to be mobile-first?
In today's digital landscape, it's a good idea for most websites to adopt a mobile-first approach. With the majority of internet users browsing on mobile devices, it ensures a better user experience for your audience. However, the extent to which you prioritize mobile-first design may vary depending on your target audience and the nature of your website. Some websites, like e-commerce sites or news portals, benefit greatly from mobile-first design, while others, such as complex web applications, may have different considerations.
Can I make my existing website mobile-first?
Yes, it's possible to transition an existing website to a mobile-first design. However, this might require significant changes to the website's layout, content, and functionality. Responsive web design agencies can help in this process by assessing your current site and developing a plan to make it mobile-friendly. Keep in mind that it might be more efficient and cost-effective to start with a mobile-first approach from the beginning if you're building a new website.
Are there any downsides to mobile-first design?
While mobile-first design offers numerous benefits, it's essential to consider potential downsides, such as limited screen space and the need for careful content prioritization. Additionally, some designers may find it challenging to switch from a desktop-centric mindset to a mobile-first one. However, with the right techniques and experience, these challenges can be overcome, resulting in websites that are well-optimized for mobile users while still providing an excellent experience on larger screens.
How can I find a responsive web design agency that specializes in mobile-first design?
To find an agency experienced in mobile-first design, you can start by researching web design agencies online. Look at their portfolios to see if they've worked on mobile-first projects in the past. Additionally, you can ask for recommendations from colleagues or business associates who have had positive experiences with web design agencies. When considering agencies, be sure to discuss your mobile-first design needs and ask about their experience and expertise in this area. Choosing an agency with a proven track record in mobile-first design can ensure your project's success.